SCHOOL UNIFORM
Embroidered School Logo Royal Blue Jumper or Cardigan
White or Gold Polo Shirt
Grey or Black Trousers/Skirts/Pinafore Dress
Smart Black School Shoes
School Book bag (to fit in each child's drawer)
P.E. KIT
Indoor Kit: Navy or Black shorts and a plain white t-shirt
Outdoor Kit: Plain white t-shirt, plain navy or black long sleeve top, jogging bottoms and suitable sports footwear.
Please note children require suitable sport footwear for P.E. - Pumps are not suitable as they are not supportive and can often come undone.
UNIFORM SHOP ONLINE
Our logo uniform items are available to purchase online at Term Time Wear or you can visit their shop in Huddersfield.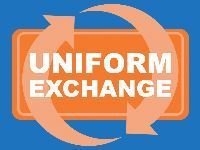 HELP WITH UNIFORM
If you find yourself in a position where you would benefit from a free school uniform, Uniform Exchange, a Huddersfield based local charity can help. Click the link here to make an application - anyone can access this service. If you find you have uniform items that you no longer require or have outgrown you can donate them to Uniform Exchange. Details of how to use the service are.